So What If....................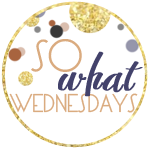 this is the only post I seem to be doing lately

I spent way too much money at the dollar store on bins for organizing my house

I still want more bins for everything else in the house

I got my first washi tape at the dollar store and I am super excited!!

I started a workout routine 2 days ago and already skipped a day

while I was at the dollar store I was drooling over all the Halloween decorations, but decided to make some instead

after I do some heavy duty organizing done, clean some of the house, do a load of laundry, run daycare, cook dinner, bathe the kids, put the kids to bed, do a workout , I will be doing nothing. If there is time for that

I am pissed that the man of the house has a MAN COLD. Yes, a MAN COLD. You feel sorry for me don't you? Isn't it too early in the year to be dealing with this?